My brother, George, suggested the above title based on some WhatsApp postings that I shared with family while in Japan as I commented on the variety of cuisine we experimented with and, for the most part, enjoyed.
A couple of the images shown below are stock photos mainly because we started eating what was served before taking pictures.
First, we have sushi – surely no trip to Japan can be complete without sushi. Now I am not a great fan of sushi – and neither is Mini – but what we had was surprisingly good. Mini and Lekshmi who was with us were not overly adventurous but I pretty much tried everything. There was one item – you can see it on the extreme left in the picture orangish/yellow that I took just one bite and gave up because it was tasteless and seemed like cartilage – crunch as well.
A visit to Japan is not complete without experiencing one of their tea rooms. This was a modified tea room – no sitting on the floor – but all they served was variety of different teas and a couple of pastry choices. I had a blend of Darjeeling and Ceylon and Mini and Lekshmi had more exotic stuff like mint tea, etc. It was a long wait to get a table – long lines seem common to get a table. The setting of the tea room was nice – surrounded by vegetation and flowers.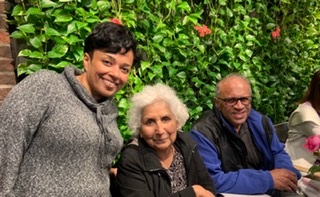 Read the rest of this entry »