We spent much of Monday – the 29th – on a city tour seeing some of the major tourist spots. Among the places we saw was a Shinto shrine: Shintoism is the major religion of Japan. It is a faith that has no religious scripture or founder. It is a difficult religion to describe – they don't believe in proselytizing which is why it is not found outside of Japan.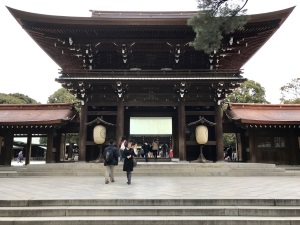 Here is a link that explains Shintoism:
https://www.japan-guide.com/e/e2056.html
Incidentally, Shinto places of worship are referred to as "shrines" and Buddhist places of worship are referred to as "temples".
Following the visit to the main Shinto shrine – a simple place with massive grounds with trees and other vegetation – we went to the main Buddhist temple. Buddhism is the second major religion in Japan but with far fewer followers than Shintoism. The temple was very very crowded – much more so than the Shinto shrine we visited – and the limited time we had on the tour combined with the crowds made it difficult to see much of it in the time allotted on this tour. We would have liked to have spent more time at the Buddhist temple but the tour schedule did not permit it.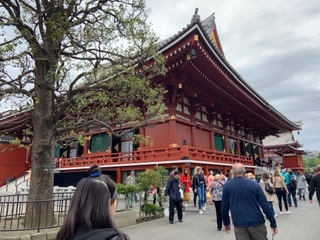 As always, despite the crowds everything was orderly and people waited patiently and in lines that formed almost naturally.
These two women allowed me to take a picture of them accompanied with Mini. We have no idea what their role was – whether they played some role at the temple or if they were just visitors!
There were many beautiful flowers and other types of vegetation at the temple