My brother, George, suggested the above title based on some WhatsApp postings that I shared with family while in Japan as I commented on the variety of cuisine we experimented with and, for the most part, enjoyed.
A couple of the images shown below are stock photos mainly because we started eating what was served before taking pictures.
First, we have sushi – surely no trip to Japan can be complete without sushi. Now I am not a great fan of sushi – and neither is Mini – but what we had was surprisingly good. Mini and Lekshmi who was with us were not overly adventurous but I pretty much tried everything. There was one item – you can see it on the extreme left in the picture orangish/yellow that I took just one bite and gave up because it was tasteless and seemed like cartilage – crunch as well.
A visit to Japan is not complete without experiencing one of their tea rooms. This was a modified tea room – no sitting on the floor – but all they served was variety of different teas and a couple of pastry choices. I had a blend of Darjeeling and Ceylon and Mini and Lekshmi had more exotic stuff like mint tea, etc. It was a long wait to get a table – long lines seem common to get a table. The setting of the tea room was nice – surrounded by vegetation and flowers.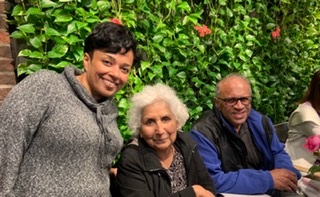 We had dinner one of the days at a restaurant that was famous for its gyoza. We got a platter of assorted fillings and the one with the duck filling was especially good. The picture was after we started eating and so the presentation does not look as well as it did when they first served it.
Of course no visit to Japan can be complete without some Ramen noodles and in Tokyo they make it an art form but served with complete efficiency.
We went to a famous and popular ramen noodle restaurant – a place that serves only ramen noodles for the most part called Ichiran Shinjuku Chuo Higashiguchi. We had to wait in line for 15 minutes on the street before we were told by the hostess that we could enter. We assumed that meant we were to be seated but it really was a signal that we could then go and wait in another line inside the restaurant for our turn! The building consisted of 8 floors and the Ramen noodle restaurant was located on the first floor and the sixth floor – we were told to go to the 6th floor and we proceeded in to this relatively small elevator to that floor.
There we stood in another line until it was our turn to enter our order into this automated vending machine where we would put our money – cash only – and press buttons to decide what we wanted: one started with the base ramen noodles and then one would select "extras" such as sautéed pork, extra green onions, garlic, extra chillies and a whole host of other options based on preference. Each item that one selected would increase the cost of the noodle order!
The only unusual item one saw as an extra was beer – I ordered this as did Brito who actually ordered two glasses! We would receive tickets for each of the items that were extras and whatever change was left.
We proceeded with our tickets to a long bench where we would sit next to whoever was ahead of us and people would be called into the restaurant when seats were available in order depending on where you were seated on the bench. As each customer/s left to enter the restaurant, one would move ahead on the bench. It took us about 15 minutes to be called in to take our seats. While on the bench, one would fill in a sheet of paper identifying some further "customization" we wanted for our order eg the spiciness, how rich we wanted the broth, etc. We'd take this paper with the tickets we bought for extras into the restaurant when we were seated.
Seating when that took place was at a counter – no family style dining. Each seat at the counter was separated by a wooden "separator" from the next diner. There was someone inside the "kitchen" who would take the paper and the tickets and then serve our ramen based on our chosen specifications. All in all an interesting approach.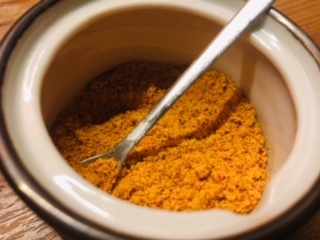 The ramen noodles were out of this world …….. just delicious. Mine – I had chosen "extra spicy" was hot enough to make me perspire profusely even as I relished every bite. BTW, it is considered entirely appropriate and acceptable to slurp one's soup while eating! I guess it must show an appreciation of the food! It is considered impolite, however, to burp! It was thoroughly enjoyable although given the seating arrangement there was little conversation between us – our focus was the food and eating it!
We left the restaurant by about 8:30pm and the lines were twice as long as when we entered!
On one of the days we tried shrimp and vegetable tempura and okonomayaki. The tempura we had tried previously in the US but the okonomayaki was a new experience.
Okonomiyaki – per Wikipedia – is a Japanese savory resembling a pancake containing a variety of ingredients including egg, cabbage, pork, and other variations. The name is derived from the word okonomi, meaning "how you like" or "what you like", and yaki meaning "cooked" (usually fried)
Hiroshima has its own version of okonomayaki – in fact, it has a reputation for having an especially good version of it and so we tried it when we were there. It was very good and a slightly spicier version – at least the one we tasted there. The ingredients in the Hiroshima version are layered rather than mixed. The layers are typically batter, cabbage, pork, and optional items such as squid, octopus, and cheese. Noodles (yakisoba, udon) are also used as a topping with fried egg and a generous amount of okonomiyaki sauce.
In Kyoto we had tonkatsu – another uniquely Japanese dish that consists of a breaded, deep-fried pork cutlet.  Ours was served with shredded raw cabbage, rice and miso soup. It was very good – other than the cabbage which was quite tasteless given that it was just raw. We had the tonkatsu at Tonkatsu Buta Gorilla Shinkyogoku Rokkaku.
The other uniquely Japanese dish we had was a Fluffy Japanese pancake. We had this also in Kyoto at a place called "A HAPPY PANCAKE kyoto". As usual there was wait to get in – though this go around it was only about 20 minutes. The unique thing about this version of pancake is that it is very light unlike the pancakes served in the US.
Our final evening in Kyoto and dinner there was quite an experience: we went to this place that was shown on Yelp as serving exceptionally good and unique Dan Dan noodle soup – and it was very spicy according to reviewers. Again we were seated at a counter and I ordered the soup with pork and Mini ordered Spicy Chilly Sauteed Chicken. In fairness, we were warned by the server that our choices – the soup and the chicken – were very spicy. We said it did not matter because we did not think that Japanese version of spicy would be hard for Indians to handle.
I was wrong …….. Mini's chicken was hot but tolerable. My soup was one of the hottest dishes I have ever eaten. No sooner than I start, I began sweating profusely – the server and chef looked concerned but I gave them a thumbs up! I did finish most of it but it was incredibly spicy. Te images will give you an idea of how hot it was – the red you see in the soup is just raw shredded hot chillys!