With the benefit of hindsight we should have spent about 4 days in Kyoto, made a day trip to Hiroshima and perhaps included a two day visit to Osaka which which was missing from our itinerary. As it worked out the itinerary we made in the US resulted in us spending only two days in Kyota which was really not sufficient to do justice to this magnificent city with its old world charm and lots to see.
Anyway we arrived here from Hiroshima on an unreserved train which involved changing at Osaka. We left booking a reserved seat until too late and by the time we tried reserved seats were fully booked because it was the end of Golden Week in Japan and there were a lot of people returning from their holidays – Golden Week is a major annual event in Japan made even more significant this year because it coincided with the abdication of the reigning emperor – the first abdication in over 200 years – and the coronation of his son the following day!
However, as it turned out getting on one of the five unreserved carriages was not a big deal – it was crowded but we did get seat. However, we arrived at Kyoto uneventfully and proceeded to our hotel – one within the Nest chain which is prominent in Japan – Hotel Kyoto Shijokarasuma. It was a nice hotel and the staff were polite and helpful. The room was small but with twin beds and the space was efficiently used. It amazes me that the Japanese are able to squeeze in as much as they do into very limited space. The room pretty much has everything one can want – beds, a small desk, an attached bath with a full tub and shower, a fridge, TV, etc – and they squeeze that all in within a total of less than 180 sq ft. As always, the room is spotless and one is provided with all the amenities one could want including a tooth brush and paste.
Mini was very tired and bothered by allergies and she went to sleep for a couple of hours. I went to deal with the problem that I had in Hiroshima as well – namely the plug points were two pin and my laptop has three pins so I needed an adapter. I walked the best part of a couple of miles to an electronic store and bought the necessary adapter. Unlike the hotel in Hiroshima, the one here did not have a spare one that they could provide me because they had already been taken so I figured I'd just buy one!
The evening of our arrival we went to the Gion district – this is the area where one can see geishas and we were keen to see them but for whatever reason we did not see any – and we found out later from someone else visiting that they had no luck either. But we proceeded from Gion to a close by area which had a mix of very high end stores plus the more moderately priced ones. The entire area was bustling with people – many were locals – and they were a young group who were clearly there to have a good time – one saw very few older people and hardly any who were middle-aged. It was just a young group in their twenties for the most part.
Our goal was to head to this restaurant which was reputed to serve quality tonkatsu which is part of the Japanese cuisine that we had been told we should try. We had some difficulty finding the restaurant but the food was outstanding.I ordered pork and Mini ordered chicken – it is breaded and fried and served with unlimited amount rice, miso soup and shredded uncooked cabbage! The portions served were generous and neither of us needed any second helping – but we noticed that a number of the younger diners surrounding us were gorging themselves on second and third helpings …….. and despite that they were almost rail thin! Genes I guess!!
The next morning we went for breakfast to a place called "Happy Pancakes" known for its Japanese style pancakes which are very fluffy and light. They were tasty and a nice change from the typical breakfast fare – not served with maple syrup as they do in the US – but with other choices. Mini chose fruits and I chose a plain omelet.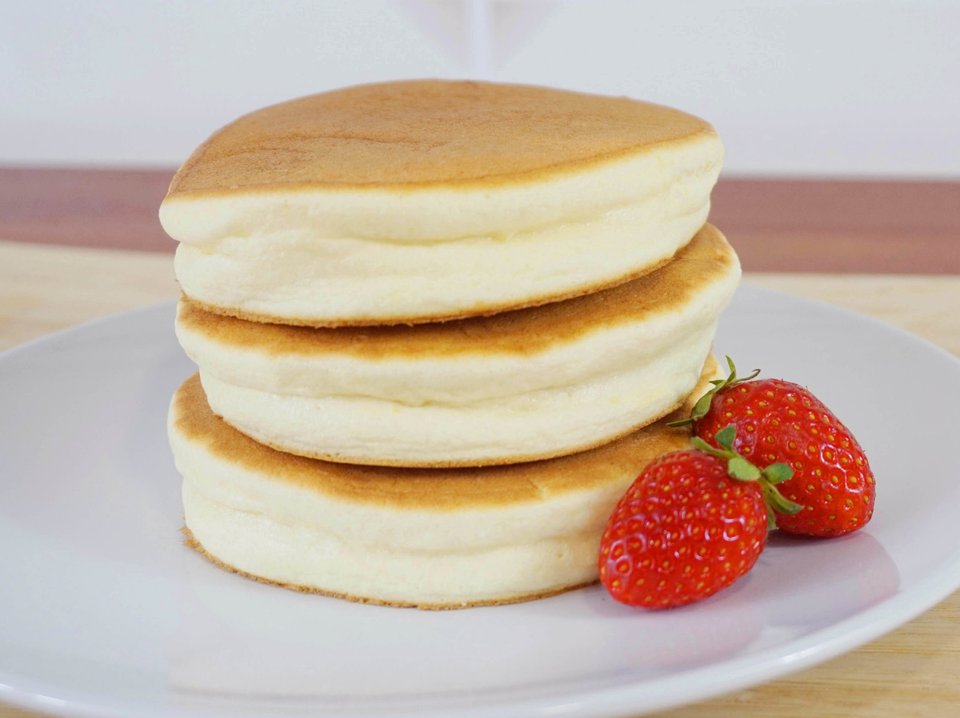 Then we embarked on our major bit of sightseeing which included the Fushimi Inari shrine – which is one of the major attractions of Kyoto. The problem is that to see the shrine one has to ascend a fairly steep climb and it would take the best part of three hours to go there and back – both a time constraint as well as something that requires a lot of stamina. I could possibly have done it but there was no way that Mini could have done so with her knee issues, etc. So we examined the surroundings which had its own charm and then left – spending about an hour in the location.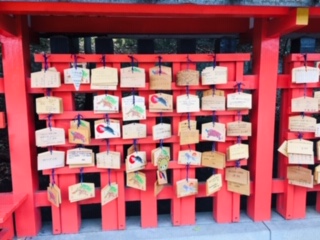 Make wishes/prayers by writing on these "plaques"
Mini pulling on the cord as part of worship
From there we went to the Arashiyama bamboo forest which is also highly rate. It involves acres and acres of bamboo trees. Certainly a peaceful area to walk and there were hundreds of tourists walking there but for us – although it is described as a major tourist attraction – it was a bit of an anti-climax. Perhaps it is because we had seen bamboo forests in China near the natural panda preserve around Chengdu or the beautiful surroundings of Kerala. There was a few couples wearing kimonos, etc and with their permission, I took a couple of pictures of them with Mini.
We spent about an hour here and decided to head out to the next location which was another major tourist draw – a Buddhist temple called Kinkaku-ji.
Kinkaku-ji was well worth visiting. It is a beautiful temple in a spectacular setting offering many opportunities for picture taking. No surprise that it is considered to be one of the highlights of any visit to Kyoto. The image of the temple richly adorned in gold leaf reflects beautifully in the water of Kyokochi, the mirror pond.
It is perhaps the most widely-recognized tourist attraction of Kyoto. Seen reflected in the adjoining "mirror pond" with its small islands of rock and pine, Kinkaku-ji Temple, "The Golden Pavilion," is worth seeing.
The building's first purpose was to serve the retiring Shogun Ashikaga Yoshimitsu (1358-1409) as a residence. The gold-leaf-adorned building was converted into a Zen temple shortly after his death. A 21-year-old monk burned Kinkaku-ji Temple down in 1950. The temple was rebuilt in 1955 and continues to function as a storehouse of sacred relics.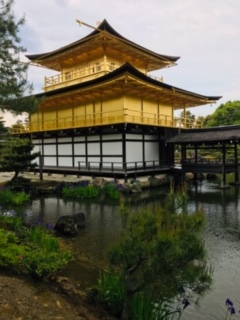 There are other worthwhile sights in Kyoto but we could not handle more than these three given the time we wanted to spend at each location and the time needed using public transportation plus walking to reach each destination.
Returning from the Golden Pavilion we encountered our first and only episode of bad weather – it started raining and we got a bit drenched since we did not have an umbrella. But it was short lived and not a big deal within the scheme of things.
We rested for a while in the hotel and then went on to have dinner at this restaurant that we found on Yelp which had excellent reviews. It was one of the best meals we had in Japan – and certainly the spiciest by far. We went there around 9:30 pm – the restaurant closes at 10 – and we were seated at the counter which appeared to be the primary seating area in the restaurant. Based on the Yelp reviews we placed our orders – one was a sautéed chicken dish, the other was Dan Dan noodles and the third was for dumplings. The first two were identified as being spicy on the menu and as we placed the order, the server actually advised us that it was spicy. We said that was fine because we figured that "spicy" by Japanese standards was a relative term. We could not have been more wrong – it was spicy beyond belief. The chef was cooking right in front of us and Mini was shocked at the amount of chilly peppers that was added during the cooking of the sautéed chicken which is what she ordered. I ordered the Dan Dan noodles and that was out of control spicy – probably one of the most spicy dishes I have every eaten.
The top of the broth in which the noodles were immersed was literally swimming in chilly flakes of some sort. Mini told me not to eat it but to order something else but I decided to give it a shot and focused on the noodles as opposed to the broth – it made it tolerable but still extremely spicy to a point where I began sweating profusely. The only thing that was not spicy was the dumplings – but between us we finished most of the food. It was amazingly tasty despite the spiciness. I used to complain that Japanese food was bland – you will not hear that from me again! The chef and the server were clearly amused by my sweating and were whispering to each other in Japanese – probably telling each other that this Indian guy let himself in for it and is going to have to pay for the consequences the following morning! I'd occasionally give them a thumbs up to say that it was tasty and that I had no regrets!!
The following day – in the early afternoon – was our train from Kyoto back to Tokyo. We took it easy in the morning. Had lunch at a French restaurant nearby – actually ended up eating a hamburger that was actually pretty good. Stopped off at a nearby Starbucks and had coffee there and then went to a well known shopping district called Chinglee just to while away time – this was an alley of sorts with numerous stalls selling a whole lot of different items though there did seem like there were a lot of establishments selling prepared and raw food. Bought a couple of souvenirs there and then headed back to the hotel where we picked up our bags and headed to Kyoto train station by metro to catch our train back to Tokyo where Lekshmi and Brito met us and we headed back to their apartment.
On the day of our departure we took an airport bus from the ANA Intercontinental hotel where Brito dropped us with our bags to head to Haneda airport for our return flight to the US.
All in all, it was a great vacation – all the more remarkable in that Japan was never on our bucket list of places we wanted to visit. We only did so because Lekshmi and Brito were stationed there with the US Embassy and so it seemed an opportune time to make a visit – and we are glad that we did.