Inspired by my brother Peter's detailed narrative of his trip to the Holy Land, I decided to emulate his example and record our visit to Japan – our first time to this part of the world. As opposed to the daily account that Peter followed, I am going to record key highlights of our visit here which was from April 26th to May 8th when we will be returning to the USA.
We were fortunate in being able to stay with our niece Lekshmi and her husband Brito. Lekshmi who works for the US State Department has been posted to the US Embassy in Tokyo and been provided with an apartment in a complex that houses only embassy personnel. It has strong security – a sign of the times given that although Japan is a safe country and Tokyo is a safe city, ultimately US personnel presumably are always vulnerable pretty much anywhere in the world.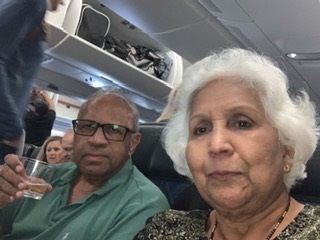 We left the US from Orlando airport on to Los Angeles from where we took our connection to Tokyo airport. We flew on Delta and opted for Premium Select which is something between Economy and Business Class. It gives one more leg room, free drinks and ostensibly better food though I can't say that I was impressed with the food. But for a long flight – a total of almost 17 hours of flying time, the more comfortable seating was a plus.
Lekshmi and Brito met us at Haneda airport when we arrived and have been very hospitable hosts during our stay. Lekshmi works at the US State Department and has been on assignment with the US embassy in Tokyo. She has been provided with an apartment in a complex that is exclusively for embassy personnel.
Brito is an excellent cook and our first dinner here consisted of salmon, baked potato and various vegetables and was delicious – and, of course, wine and other alcoholic drinks.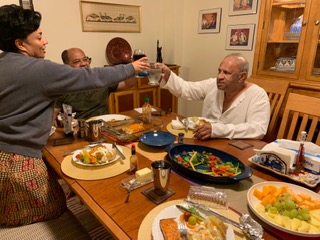 Fortunately, given that this is Golden Week in Japan and much of Japan, including the embassy personnel are off for the week so they have been able to spend more time with us. It has been an ideal set up for us as opposed to staying in a hotel with all of the constraints that one associates with a hotel.
Just by way of an aside, we elected to pay $5 each which enabled us to avail of unlimited roaming, texting and data during our stay in Japan through Sprint who is a carrier in the US. It turned out to be unnecessary because we have LTE service through Softbank just about everywhere in Tokyo – better service than we get in the US with Sprint! This is probably explained by the fact that SoftBank now has a 78% ownership interest in Sprint. So those with Sprint service in the US have the benefit of excellent service in Japan – and certainly in Tokyo.
We will be in Tokyo until the 4th and thereafter we head to Hiroshima and Kyoto and return to Tokyo on the 7th and catch our flight back to the US on the 8th.