I am not sure what it is that fascinates me about a website a South American, Diego Goldberg, started some years ago. Goldberg started to take pictures of his family from 1976 to the current year with following explanation:
"On June 17th, every year, the family goes through a private ritual: we photograph ourselves to stop, for a fleeting moment, the arrow of time passing by."
Diego's first pictures are of him and his wife in 1976 and over the years we see pictures of his children – three sons. There is a picture of the family every year right up to 2012 …… fascinating to watch how time has changed the visages of the various family members. This year there were images of one of Goldberg's sons, Nicolas, and his family commencing in 2009.
Here is what Goldberg and his wife, Susy looked like in 1976, presumably when they first got married:
.

This is what they look like in 2012:
.


Similar images of Diego and his family appear every year and can be viewed on the "The Arrow of Time" website.
Perhaps it is a personal quirk that makes this concept so appealing to me or perhaps it is because I have seen how over the years my own family has changed ………. I know that I wish that I had done something similar in the case of my family. I certainly have made others who were starting their married life to consider some sort of pictorial record of their families as the years go by and, perhaps, some have done so even if they don't post it on the web.
What brought this to mind and made it the focus of a posting on my blog was something similar that I happened to "stumble" upon quite by accident. This is a group of five friends who have been recording images of themselves every five years. They started doing so in 1982 when they were teenagers and thirty years later they took the latest picture.
Apparently, the story goes something like this according to an article on the CNN website:

"In 1982, When five teenagers sat down and posed for a picture at Copco Lake in 1982, they didn't plan on making it a tradition. But that's what it became.
Every five years for the past three decades, John Wardlaw, John Dickson, Mark Rumer, Dallas Burney and John Molony have been meeting at the California lake and taking the same photo.
The first photograph of the high school friends was just happenstance. Wardlaw, known as Wedge in the group, had a family cabin at the lake where the friends gathered in July 1982.
While hanging out on the deck of the cabin, Dickson, or J.D., set his 35-millimeter camera on self-timer to take a group photo."
Here is how these five friends looked like in 1982 when they started taking the pictures: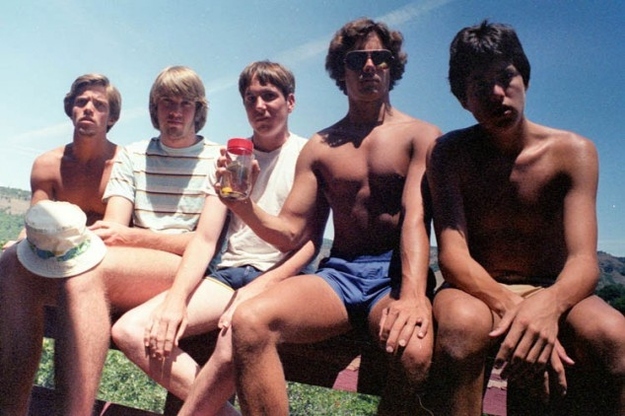 "As the men went into their college years, they continued to return to the lake every summer. They spent their time fishing and reading and playing roles in homemade movies shot by Wardlaw, who is now a filmmaker.
Tags: "The Arrow of Time", Dallas Burney and John Molony, Diego Goldberg, five friends make a tradition of taking pictures of them as a group every five years, John Dickson, John Wardlaw, Mark Rumer